Cast Iron
We have three cast iron foundries and one machine shop in Satara District at Satara & Shirwal at three manufacturing locations with modern set up of shell moulding, with the following facilities.
• Fully Automatic PLC Shell Moulding Machines, Mould Shooters and Core Shooters.
• Inductotherm make Dual Track Medium Frequency Induction Melting Furnaces.
• Mechanised Mould Pouring and Knock Out Loop.
• Disa make Shot Blasting Machines.
• Well equipped separate plant for painting.
• Well equipped Test Laboratory with Spectrometer.

Pouring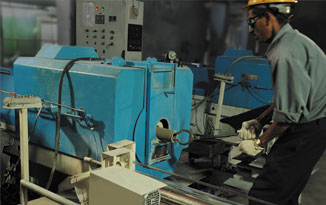 Centrifugal Casting