Business Philosophy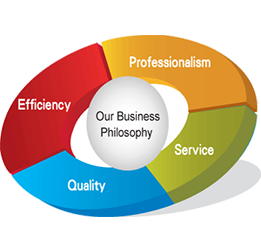 Customer is the God. We therefore ensure that the customer is supplied
The best possible quality that he wants, to his specifications
At the most reasonable price, leaving the organization reasonable profits for expansion,
At the time and in the quantity that he wants and the best possible services
Respect for individual with very fair and clean -- legally and morally correct and friendly with all.
Operators and staff, including their families, are the pillars of the organization.
Our Mission
To have outstanding tool design, process design and manufacturing capabilities
To continuously develop and adopt best in industry technologies.
To be the most preferred supplier to our customers with respect to quality, cost, delivery, service and development.
To achieve planned growth in all business segments, especially in exports.
To develop and implement strategies.
To focus on preventing pollution, reducing waste and consumption and on recovering reusing or recycling material used in our processes.
To achieve significant growth in the renewable energy space.
To develop a highly empowered team of competent members to achieve organizational goals and a sense of fulfillment for the members.
To establish a strong supplier and vendor partnerships.
To serve the community with employee involvement, either ourselves or through partnerships with registered NGO's (Non government organizations)
Our Vision
We will be a world leader for supplying intricate engineering products and services along with being an important generator and supplier of renewable energy. To us leadership means providing highest quality and value to our customers, long term growth in our business and contributing towards a sustainable environment.
We will focus on high performance of our members accompanied with a caring attitude, there by making our company a great place to work. We will strengthen relationships for mutual benefit with all stake holders, based on trust, fairness and high standards.
We will continue to strive for high standards of compliance with the rules and regulations farmed by the concerned government authorities. Our existence will lead to the betterment of the community.